Middlemarch by George Eliot
For a Franco-Ontarian who has mostly read in French her entire life, certain English classics have always felt out of reach. George Eliot's Middlemarch, for example, which spans the imposing length of just under 900 pages, is not a book I would have picked up just for the sake of it. Its length should not put anyone off, though, since Eliot's writing has the ability to take the reader on a long, excursionary journey well worth travelling.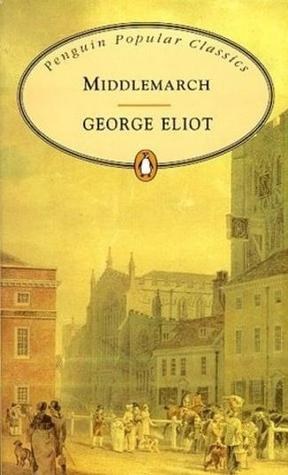 Middlemarch and its author may not need much in way of introduction, but I confess to knowing very little about either before this book became the spring selection for the book club I attend. George Eliot is a pseudonym used by Marian Evans, born in 1819 in Warwickshire, England. Evans was a journalist who concentrated her work in publishing, philosophical essays and other writings. Later in life, she began to write works of fiction under the name George Eliot, the pen name for which she is most known. Middlemarch is one of her many novels. It tells the story of the inhabitants of Middlemarch, a fictitious provincial town, between the years of 1829 and 1832.
The novel is divided into 8 volumes and recounts the stories of a large number of characters: men, women, young lovers, older politicians, long-time married couples, etc.
The connections between the characters evolve throughout the novel to create an intricate web of relationships and stories that make up life as it is experienced in Middlemarch.
The main cast can be summed up with a few introductions. Dorothea Brooke is a young, intellectually ambitious woman who sees marriage as her way of contributing to someone's lifelong academic pursuits. She sees her own advancement as one that is tied to her husband, a scholar, and chooses, despite her family and friend's best efforts, to marry Edward Casaubon, hence becoming Dorothea Casaubon early on.
Tertius Lydgate is a fresh, new doctor who arrives in Middlemarch with specific objectives. He intentionally establishes himself in a smaller town with the hopes of settling into a modest medical practice while having time for personal scientific study. He will come to court Rosamund Vincy and will make the judgement call that a woman who is intellectually uninterested in his work will be able to support him throughout his life and career.
Finally, we meet Fred Vincy (Rosamund's brother), who faces two major struggles: the first in which his upper-class family expects his career to take a certain path, and the second: his undying love of Mary Garth.
The challenges and choices he will face to try and win her heart will define his life and path. Dorothea, Tertius and Fred are only three of many more characters that compose the choir of this novel, but their stories are pivotal to so many others.
In the backdrop of this tale is the 1832 reform act which aimed to modernize the democratic representation system of the United Kingdom. This context provides space for the novel's plot to evolve in a political sphere as well: we meet public officials, or hopefuls, we encounter gossip and manipulation, we get a sense that there is a clash between the old and the new and that the world is changing in the face of the characters we follow.
Without revealing too much of the plot, the themes of Middlemarch are timeless: love, ambition, the role and hope of women, marriage, community. Middlemarch as a "provincial town" represents the cruel mediocrity often present in many small towns, or institutions, but also makes way for the hopes and dreams of countless individuals that come through.
Author Zadie Smith wrote an essay called "Middlemarch and everybody" which is a great review of George Eliot's strength in presenting characters that are complex, driven and entirely relatable.
Despite being an ambitious read, Middlemarch is a quest in understanding relationships, social interactions, and is simply a beautifully-written masterpiece. For someone who hasn't made it through a Victorian classic since reluctantly completing Wuthering Heights in high school, reading (and loving) Middlemarch felt like a worthwhile accomplishment.
5/5 Middlemarch by George Eliot
Changing my mind by Zadie Smith (for the essay "Middlemarch and everybody")