Book review: Pride & Prejudice by Jane Austen
At last! I finished Jane Austen's immensely popular Pride & Prejudice. It won me over, in the end, but hell, was it ever hard to get through. Such is the challenge with making your way through a list of classics. While I am always content to finish them, some are bound to be grueling reads.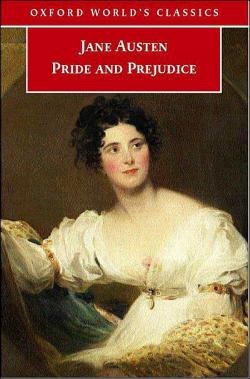 Jane Austen needs little introduction. She is a novelist from the early 19th century who wrote a number of epic and romantic novels that are known for their web of characters and their critical view on British high society. Pride & Prejudice is one of them, and so are Sense & Sensibility, Emma, Mansfield Park, to name but a few.
In Pride & Prejudice, the main character Elizabeth (Lizzy) Bennett leads us through her emotional roller-coaster as she tries to make up her mind on who will be the best husband to suit her needs. In this adventure, she drags: her father, her mother, her sisters and a large cast of other relations. They go from the ball room to the tea salon, engage in conversations and other leisurely activities, while the emotional tension between characters is always bubbling just below the surface. Throughout the novel, Lizzy will dance a sort of tango with Fitzwilliam Darcy, a young eligible and wealthy young man.
This book is so very high society, and I struggled with this. It is a novel, and perhaps an epoch, where the women depicted are primarily concerned with getting married, consumed by the feelings that lead up to some deal made in their name.
I most saw Austen's sense of humour and irony through the character of Mrs. Bennett, Elizabeth's mother. Her sole purpose in life is to marry off her five daughters and is exasperated by their lack of collaboration in this mission. Her ability to profoundly dislike someone is flipped on its head if they have money and show signs of interest to being engaged to her offspring.
The relationship between Lizzy and her father is one of great respect and understanding, even in the context where he still maintains all rights to exchange his daughter as property.
Elizabeth is a truly smart character, who, in many ways, knows enough about the limitations imposed on her by the times to play along and get her way. More often than not, she makes use of sharp wit when engaged in conversation and succeeds in obtaining more information than she gives away – a skill that serves her well.
Lizzy's volte-face about Mr. Darcy is sensitive, intelligent and measured. Her initial reaction was informed by lack of facts, and her opinion of him, and consequently her love for him, changes when she gains clarity to a certain version of history.
There are certainly a lot of words to describe feelings and emotions in Pride & Prejudice, enough to make it challenging to get into. It's about 200 pages in that I got truly hooked to the story line. The novel carries its name well as Pride will be hurt and prejudice will hurt. The characters will have to overcome these two traits to get closer.
It was my first of Austen's book to read. I struggled, perhaps because my expectations were high, or because I had heard that an action takes place every six page in Austen's books. I did eventually come to see the author's humour, and even her vibrant criticism of the hypocrisy of her times. Lizzy has a kind of agency that drives the plot, and by the end I was ready to follow her through her (mis)adventures.
In the end, I am happy to have ventured into Austen's England, with a cup of tea on an Autumn afternoon. I even laughed out lout at some passages. She's funny, this Jane Austen!
Pride & Prejudice by Jane Austen
4/5
See also, as recommended by a friend: "It's a truth universally acknowledged that the Vlog adaptation called The Lizzy Bennett Diaries is way better than the book".