Book review: The Marrow Thieves by Cherie Dimaline
Cherie Dimaline first published a novel in 2011, and should be on everyone's list of authors to follow. Her most recent book is The Marrow Thieves, which received multiple awards and competed in the 2018 edition of Canada Reads. The novel is set in a world ravaged by climate change, where it rains almost every day and humans have been through numerous environmental catastrophes. Everyone has lost the ability to dream in their sleep, except for Indigenous people who have, in their bone marrow, a special composition that allows them to continue dreaming. As a result, they are persecuted. In this book, we get to know eight people through the eyes of a young boy, Francis also known as Frenchie, who is part of this group on the run from the marrow thieves.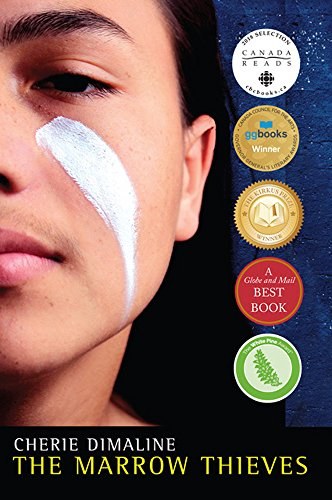 Frenchie is the novel's main character and we learn to love his sometimes sloppy way of expressing himself and his intentions. He's a young boy who was saved from the Recruiters when his brother sacrificed himself.
The Recruiters, in The Marrow Thieves, are the government agents responsible for capturing and handing over Indigenous people to large facilities, called "schools", where their marrow is to be collected. They use nasty techniques to track, capture and detain Indigenous people, and are largely feared and mistrusted. In their defense against these forces, Frenchie and his crew train, arm themselves and walk north, or east, to get away from them.
Every day, they set up camp after walking hours in the rain, and do their best to look after each other and to survive.
Around Frenchie is a cast of amazing characters. Minerva is the group's elder who has mobility issues, but is loved and respected by all. Miigwans is the leader, the one who can remember a time before the Recruiters, and the one who brings younger members of the group along. RiRi is the youngest member and has a special bond with Frenchie.
There are others who each have their past of having broken with their community and started on this never-ending chase for their lives.
The title of the book may be The Marrow Thieves, but the recruiters are far from being the primary focus of the story. Instead, the shining star of the novel is this community of people fighting their tragic fate.
Every member has experienced some form of trauma, loss or grief, and yet they learn enough about each other to gather and thrive. Their nightly habit of sharing stories around the fire shows a commitment to spreading knowledge from one generation to the next, and also brings a non-linear storyline to the narrative.
As it happens, this book is much more about the power of resistance and resilience than it is about the dystopic reality it projects.
The book draws parallels from true historical facts, such as the experience of the Indigenous population in Canada and the government-run residential schools. In doing so, the book makes so accessible the dynamics of systemic racism faced by Aboriginal communities throughout Canada's history, and even today.
The dystopic formula ends up lending itself so well to this context, and Dimaline's ability to render it through warm, expressive writing makes it so much stronger.
This book is classified as Young Adult fiction, but do not let that label deter you. While being accessible to younger readers, the book should be read by folks of all ages, in Canada and abroad.
It is a sensational novel both thrilling in its writing and profound in its social commentary on colonialism, racism and the systematic oppression of Indigenous communities. This book can be completed quickly—I devoured it in two days—and is best read on Canada Day weekend, away from public displays of nationalistic pride.
5/5