Book Review: Parable of the Sower by Octavia E. Butler
It is a strange experience to be in the midst of reading an excellent dystopic novel when the world around you keeps showing signs that it is coming apart at the seems. Just last week, in real life, we followed the news of children being torn away from their parents and kept in child detention centres in the United States. Meanwhile, I was immersed in Octavia Butler's Parable of the Sower, a novel where a young woman struggles through a time of environmental depletion and fatal wealth inequality that is set in …2024. Butler's portrayal of what we could call a future that is too close for comfort rings so true today.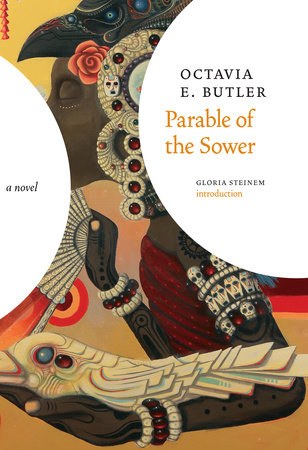 Parable of the Sower was published in 1993 as the first part of an anticipated trilogy. Butler completed the second book, Parable of the Talents, but never finished the third instalment. The first book runs through the birth of a "shared beliefs" community named Earthseed, and the young woman who drives it forward.
Lauren Oya Olamina is a remarkable character: she is a young, black, curious and driven 16 years old. She lives in a struggling gated community where a handful of families do their best to survive together. The stage is set in this way: water must be bought at a high price.
There are few jobs and money is scarce for most common people. Many are pushed to desperate situations where they will steal, pillage, and use violence to get by. Guns rule the world and cities have collapsed. Lauren's family is struggling, but is sufficiently wealthy to live behind a gate that preserves their livelihoods inside. There are cracks in their protective wall though: as things get worse outside, they become the target of ruthless thieves and scavengers.
There is a growing fear of a drug called "Pyro", a substance where those who take it get intense sensations from starting fires wherever they go, destroying lives and shelters along the way. Lauren inconspicuously prepares for the day when it will all fall down and she will have to run. She prepares an emergency pack. She knows that, one day, she will see everything she knows crumble to the ground and she will be the sole person responsible to keep herself alive to start rebuilding.
She has an extraordinary condition called "hyperempathy"—or sharing—where she experiences the pain, or pleasure, felt by those around her. This trait defines her character and her interactions with others.
When the moment comes, Lauren is thrust into the world and starts putting her Earthseed ideas to the test. Throughout the novel, she will assemble a group of survivors and will aim to lead them to a safe space where they can look after themselves. She boldly challenges the cruel laws that govern a chaotic society and she builds a network based on trust, hope and kindness.
Through their voyage north, by foot on deserted highways, we follow the group and their unlikely allies. They will seek isolated campsites daily and do their best to avoid confrontation. Together, they will learn to know and appreciate each other, and will do their best to get to the other side where safety and security, they hope, await them.
The theme of building communities is the one that stands out the most after reading the novel. The main character's drive to rally good people and to rise above the oppressive rules of class, race and gender is inspiring and provides so much substance for this novel that follows a simple, but layered, narrative.
Octavia E. Butler is an acclaimed African-American author of science fiction. Her first published writings date back to the 1960s, but her rise to success materialized in the 1980s when she won both the Hugo and Nebula awards and opened the door to many more years of recognition.
Parable of the Sower is one of her well-known novels, but it is far from being the only one. I found it an excellent entry point into her work; a door I want to push open and explore more of her astounding science fiction. Some dystopic novels will leave you feeling crushed by the feeling of society going backwards. Parable of the Sower is not one of them.
What emerges from this book is a feeling of hope, of human resilience and of the need to continue building strong and supportive communities in spite of the state of the world.
The book's great humanity is what makes it riveting and heartfelt. To be reminded that the need to resist lives on, and to be guided through an epic voyage through scorched terrain where flowers still grow, take time to read Parable of the Sower this summer.
5/5